Counties Served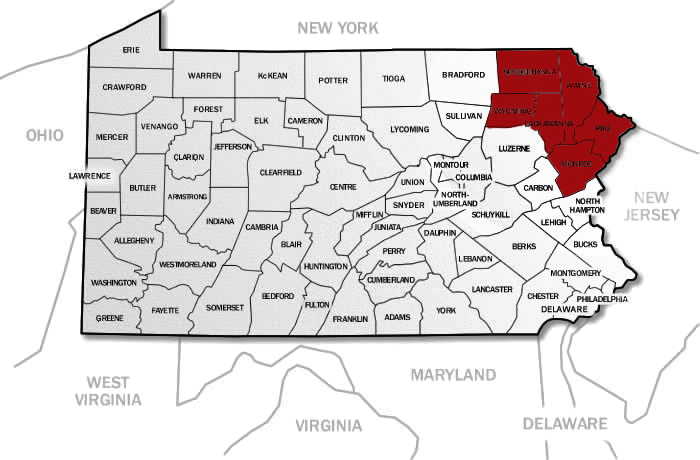 Counties Served
At Wasco Bail Bonds, we are here to help you in Northeast Pennsylvania.
Call 570-342-9020 for the best bail services in the region, Wasco Bail Bonds!
Primary Counties: Lackawanna, Monroe, Pike, Susquehanna, Wayne, and Wyoming Counties
Primary Cities: Scranton, Stroudsburg, Honesdale, Tunkhannock, Milford, and Montrose
Assistance Available: All other counties of PA and in 42 states across the United States
At Wasco Bail Bonds, we serve all of Northeast Pennsylvania. We pride ourselves on providing the best quality bail services and understand that your needs come first when it comes to getting bail bonds.
Below is a list of the primary counties and cities that we currently serve. If an individual is incarcerated in this area, we can bail them out!
Our Primary Counties
Wasco Bail Bonds primarily serves six counties in Northeast Pennsylvania which includes:
Lackawanna County

Monroe County

Pike County

Wayne County

Wyoming County

Susquehanna County
Our Primary Cities
Within the six primary counties are a number of cities that we also serve. The primary communities that we serve in this region include, but are not limited to the following;
Scranton

Honesdale

Stroudsburg

Tunkhannock

Milford

Montrose, PA

and More!
We serve a very important function in Northeast Pennsylvania and work hard to provide the best in bail bond services so that you can get on with your life as quickly as possible. If you should have any questions about our bail services, please call us and we'll be happy to answer your questions.
Why Choose Wasco Bail Bonds?
If you know an individual who is incarcerated, then you should call our bail bonds office. Our friendly, courteous service is geared towards helping you as much as we can with your particular situation. We understand that you may have never been in this predicament before and our bail bond agents are here to answer your questions about bail. This is why we have developed a reputation of being second to none in the bail bonds industry in our region!